PREVIOUS Seminars
2011 Seminar Schedule
Colleen is taking off from teaching until at least July of 2011, so that she can bring to press her new book — a sequel to Crossing the Rainbow Bridge.
2010 Seminar Schedule
Jacksonville, FL — April 30- May 2, 2010 Animal Communication Level I & II Certification Seminar and Workshop at the Clay County Ag Center. Read more...
---
Bucks County, PA — May 14-16, 2010 Animal Communication Level I & II Certification Seminar and Workshop at Fire Creek Farm. Read more...
---
Cape Cod, MA — September — POSTPONED UNTIL 5/2011. Animal Communication Level I & II Certification Seminar and Workshop in Plympton, MA.
In Association with Dr. Mark Russo of Kingston Animal Hospital and it's affiliate Healthy Veterinary Alternatives, this seminar will be held 35 minutes from the Cape in Plympton, MA. Only 45 minutes from Boston and 15 minutes from historic Plymouth, the seminar setting will be on the serene acreage of 275 year old Just Right Farm. Part of your tuition will be donated to the Donna/"Max" Legacy Fund. Read more...
2009 Seminar Schedule
November 7-8, 2009- Animal Communication Level I & II Certification Seminar and Workshop was held at Popcorn Park Zoo in Forked River, NJ. Part of the Associated Humane Societies, Popcorn Park Zoo offered students the opportunity to learn to communicate with many species of animals, most of them exotic, during this very special event. A portion of tuition collected went directly to the care and mainenance of the residents of Popcorn Park Zoo.
Classroom sessions for Level 1 & 2 will be held at the quiet environment of Charlie Brown's Steakhouse Restaurant where students will learned exercises directed at opening their own natural telepathic abilities. They learned the basics of animal communication and it's practical application to the animals in their lives and those around them. Level 2 offered advanced training with sick and injured animals, a speciality in itself. Both levels will gave students the opportunity to work with many animals, both via distance and face-t0-face with time spent at the zoo each day. For more detailed info, read more here.
---
June 26 - 28 , 2009—Animal Communication Level I & II Certification Seminar and Workshop, Jacksonville, FL.
In a serene setting, this intensive 12 hour course was a terrific success. Students worked with animals near and far utilizing techniqes learned through telepathic exercises and a MetaWalk™ aimed at opening and enhancing their own communication abilities.
Both sessions of Level 1 (basic truths and principles) and the first session of Level 2 (working with sick, injured or disabled animals) were held at the Flamingo Lake Resort in Jacksonville, and the 2nd session of Level 2 was held at the 100 acre Oaks Ranch in Green Cove Springs, FL. This hands on approach to teaching animal communication offered students a well rounded education utilizing both classroom work and hands-on opportunities.
Pictures left to right: Darlene listens; Drs. Courtney Cone & Manuela Garner, DVMs; Jennifer with Avatar; Learning/Sharing; Sue from KampKritter & The Barking Lot with rescued pit bull Mojo work with students in Level 1; talking with the bird.
Student comments:
"Very thorough, friendly, much to think about. Just doing Level 1 was great for me as I really need to think things over. Thanks."
"It was wonderful; informative; great info and wonderful presentation."
Was it helpful to have animals present? "Oh my gosh, it was the best!"
"I think the relaxation exercises were a major contribution to my success with animal communication."
Impression and overall quality of the presentation:
"From the heart. Presented well. Prepared well."
"Very good, hate to see it end."
"Very personable & friendly which made me comfortable enough to speak out without feeling of judgement."
"Simply divine. Truly made communication accessible and practical."
Certificates of completion were earned in Level I, Level II or both.
---
May 2nd, 2009—Animal Communication Level I Workshop, Ross Mill Farm in Warminster (Buck's County), PA.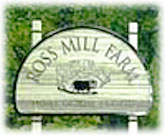 Saturday, 10 a.m. to 6 p.m. This course was small, intimate and highly successful. Students were asked to rate their seminar and here are a few of the all favorable results.
"Use of pictures and live animals were most useful."
"The relaxation and grounding exercise I needed to turn down my mind. The sending and receiving exercise showed me how much my own head gets in my way."
"The seminar exceeded my expectations. It was wonderful and I wouldn't change a thing.
2008 Seminar Schedule
Popcorn Park Zoo, Forked River, NJ — TBA for Fall 2009
Jacksonville, FL — TBA for Summer 2009
Our seminar schedule has been put on hold due to our oldest potbelly pig, Clover la Oink. At 17, he is a special needs pig requiring more time and care than we wish our pig-sitters to contend with, and at this stage of Clover's life, we simply want to be here with him. Check back here or to the Breaking News page for updates to this page and the seminar schedule for 2009. I do look forward to helping you learn to speak with your own animals at a seminar soon. In the meantime, check out last year's seminar at Popcorn Park Zoo to see more about what Animal Communication seminars are all about.
2007 Seminar Schedule
April 2007 Animal Communication Seminar News!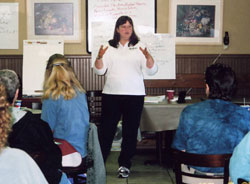 "The 2-day animal communication seminar led by renowned animal communicator and author, Colleen Nicholson, was an outstanding and successful effort in awakening the telepathic abilities and in developing skills to connect with our pets and with Popcorn Park animals. It was a fabulous, mind-expanding experience and we would highly recommend this effort to other groups, clubs, and shelters," Roseann Trezza, Executive Director.
If you would like to know when a seminar is in your area, just e-mail Colleen Nicholson or call her at 315-652-4964. If you would like to hold a seminar in your area, contact her for additional information. If you own a pet or you had one that has crossed over, Colleen gives readings which can be done by phone. She has authored the book "Crossing the Rainbow Bridge: Animal Journeys to Heaven" which can be purchased through Carp Cove Press.
To have a seminar for your group, to have a reading or to find when a seminar will be in your area, just contact Colleen and check here often for her seminar schedule!
Some of the animals that were read by Colleen helped the Popcorn Park Zoo staff to have a better understanding of the animals they care for.
The Zoo Seminar
Popcorn Park Zoo Seminar with Colleen Nicholson
Nyla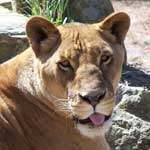 "A Queen is some idea used for distinction, but I will tell you I had none of that until I came here. I now like to watch all who pass me by because I know I am revered here, and I know I'll be fed at the end of the day. For this, I tell you (John Bergmann, Zoo Director) - Thank you".
Champ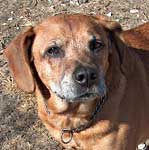 "I know I'll one day leave here and be with my mom. I think of her all the time and I know that she is thinking of me. I appreciate all the kindness given to me".
Poco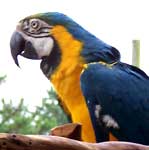 "Poco! Poco! Poco! Come see me. Poco!" Note: He loves to be seen but is wary of cats. He likes treats, but I think he is showing me he'll save them for later so as not to lose face-time with people when they're near him.
Newton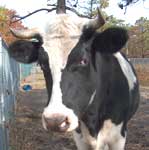 NEWTON - "People do not look at me like they do the others. Am I plain? I do not have milk". Note: He feels children like him but adults almost pass him by. He is very curious and loves to be spoken to.
Seven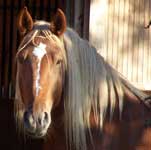 "I like to be petted by little hands of inspiration".
Trudy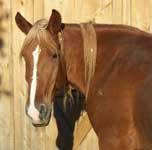 "I like carrots and cookies but not dirty fruit (with sand on it). Note: These girls seem inseparable in that I don't know which one is saying this: "It's joyful to stand in the sun with the warmth on your back, a breeze in your mane and birds nearby. The beauty of the day is all around you, as is sadness. Which do you choose to see?"
Note: Trudy and her daughter Seven were kept on a barren piece of land and were terrible condition before being rescued. Both girls suffered sand colic.
Ozzie
"I think I'm going to be a very special pig. I think I'm going to be missed when I am gone". When I ask Ozzie where he is going, he says, "Home. One day I'll be going back home".
Cagney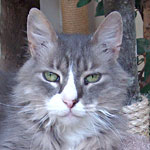 "What I like best about being here is it smells so different. It smells like good things: food, life and living. I have no sadness for being here. Thank you."
Pluto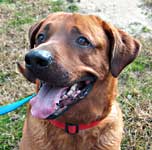 "I don't have problems now but I used to be very hungry. I could not see well and my neck hurt. I used to cry. I did not understand".
Linda Blair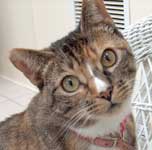 "I don't know what to tell you, sometimes I have to poop and it is loose. But I don't have to do that often". Note: I get an unevenness about Linda's balance at times. It seems to come and go but it doesn't seem to bother her, leading me to believe she may have always been this way and doesn't know the difference. She wants to tilt toward the left as it feels her left hand side of her body is heavier and lower than the right. She feels as if she's floating on her right side. I'm surprised she does feel dizzy.
Remus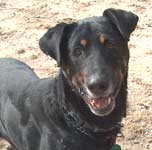 "I was stuck. I was stuck in the tire by the hard wall. I cried. But I can move good now". Note: Remus tells me he sometimes can feel his missing leg, he feels his toes. He showed me being stuck in a spot where some large tires leaned up against a wall and where metal tipped over. A man helped him get free, but Remus would not let the man near him after that.
DOWNLOAD ZOO REGISTRATION FORM
(PDF legal-size)

See what Zoo resident Bengali has had to say in the past.

Come learn how to rekindle your own abilities to communicate with animals and open your world to the wisdom they have to share with us!

Zoo Director, John Bergmann and Colleen
pose at the grave of a good friend.

View PDF brochure. Download!

Be sure and have Colleen add your name to the list to be informed of the next Zoo Seminar.

You won't want to miss it!

---

Want to be notified with final plans for these seminars? Email Colleen and you will be added to the advance notification list.

Want to hold a seminar in your area? Please contact Colleen for information.