CURRENTLY UNAVAILABLE
Custom Beaded Pig Harnesses and Leads featuring the Comfort Fit Safety Harness™ — Buy Now — Online Order Form
| | | | |
| --- | --- | --- | --- |
| Black/Silver Sm $55 | Green/Silver Med $57 | Red/Silver Lg $60 | BUY NOW! |
| 005HarryOn | 006h | 007c3 | 008p4 |
See more images of harnesses below! Place your order now!
Pigs have their own unique, special personality, disposition and figure, so you need a harness and lead that fits them and them alone. At Animal Wellness we know this as truth because we have three little pigs of our own. So we are now offering Custom Beaded harnesses and leads for the pigs you love.
Safety is the first and foremost important thing to think of when your pig goes out on the town, so we have chosen the best pig harness available: This harness is made just for pet pigs and is designed to offer the ultimate in comfort, safety and fit. They come in 4 sizes: Small to XLarge.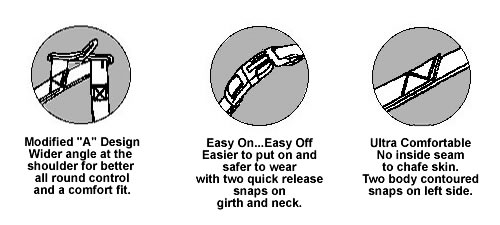 | | |
| --- | --- |
| Size (Strap Width) | Neck & Girth Adjustments |
| Small (5/8") | 14" to 20" |
| Medium (5/8") | 19" to 29" |
| Large (1.0") | 23" to 41" |
| X-Large (1.0") | 35" to 53" |
| Leads (Matching colors) (1.0") | 6.0' |
Custom Hand Beading is created for you with the finest quality beads, such as Swarovski Crystal, Czech Glass, Sterling Silver and Thai Silver, to name a few. There are no rules - just pick a colour combination you would like and we'll take it from there. All beading will be done so no stitches on the underside of the harness will chafe your bristly pals' skin.
We have three Black Harness/Lead sets available immediately or pick the colour combination you'd like and we can have it custom beaded for you. The beads show up best on the dark, rich colours, like black. Beads: Sapphire Blue, Green, Ameythst, Red, Black, Crystal (clear).
Buy Quality! Order your custom Beaded Pig Harness with Lead now!
Click on Images of Harnesses to Enlarge

| | | | |
| --- | --- | --- | --- |
| Black Flower Harness | c2@ | c4zoom- | cC2zoom- |
| CloverTop1- | Green Flower Harness#506160 | h2- | h3- |
| h4- | h | p2@ | p3- |
| p5- | p | PmomC | Red Harness and Lead |
If you'd like to order a harness/lead without custom beading, please visit our good friends at Ross Mill Farm and Piggy Camp.