Homeopathy and Remedy Kits
Like all horse lovers, at Animal Wellness, we take colic seriously. Always a possible life-threatening condition, colic can come on suddenly, paralyzing a horse in both panic and pain, and his human with undeniable fear. In every colic event, time is of the essence.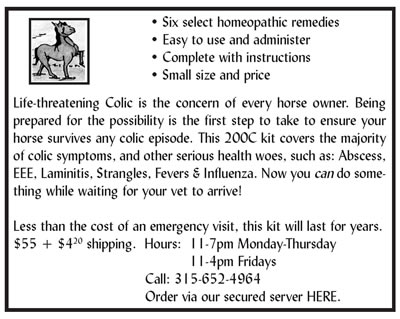 A good feed and management program will go a long way to insuring that your horse never suffers colic, and it is a most important aspect of responsible horse care. Should colic still arise, call your vet, get your horse walking and keep him moving, try to encourage drinking, and use this kit.
The Horse & Colic Kit can save your horse from undue pain and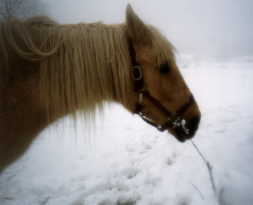 suffering, while giving you something else real to do to help him through this frightening ordeal. Homeopathic remedies offer you a viable, non-toxic, fast-acting, holistic approach to treating colic, and with this kit it comes to you for about the cost of one emergency vet call.
By learning the indications of only the six remedies contained within this kit from the enclosed easy-to-use chart, and by having this kit on hand, is all it takes. This kit is a one-of-a-kind item, and we believe no barn or tack box should be without it!