Consulting Services
Resume: Joyce
Puchyr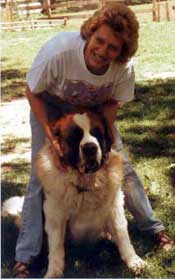 Animal Nutrition Consultant since 1981
Homeopathic Lay Practitioner since 1991
Animal Wellness Consultants Co-Founder and The Feed Bag for Animal Wellness
Proprietor of our retail outlet for Wysong™ High Quality Animal Feeds since 1995. Distributing other high quality feeds, such as Solid Gold
Reiki Practitioner 1995, 2nd Degree since 1996
Onondaga County Department of Information Technology, Program Manager -- now Training Coordinator since 1968 to retirement - Dec 30,2002 (and the reason why you can reach Animal Wellness in the evening
and on weekends.)
Life-threatening situations: Neither Colleen or Joyce are veterinarians... advocating that you seek PROFESSIONAL VETERINARY MEDICAL CARE for your animals in any serious or life-threatening situation! However, by all means, use what you learn through Animal Wellness while waiting for or transporting to emergency veterinary care.
---
Both Colleen and Joyce speak publicly on holistic health care for animals. They have also taught Life-Long Learning classes for Community Colleges and civic groups.
They have attended numerous holistic veterinary seminars given by respected educating holistic and homeopathic veterinarians.
Their intensive human course study has been with the homeopathic certificate program, lead by Dr. Robin Murphy, ND, in the Hahneman Academy of North America.
Their intensive veterinary course study has been with the Professional Veterinary Course, currently offered by Dr. Richard Pitcairn, DVM, at the Eugene Animal Clinic, and is accredited with the American Holistic Veterinary Association for continued education.
---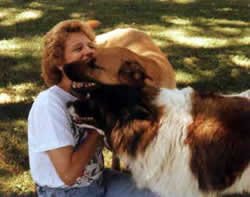 If you get the answering machine when calling us at The Feed Bag during our evening or weekend hours, it's probably because Joyce is either tending to one of her own many companion animals, like Sunday (above right) or Jill or Bandit (right), or she's filling a feed order for one of our furry clients. Just leave a message and she will return your call.