Potbelly Pig Place - Nickelodeon
Nickelodeon — Pig Press Release
Press Release 1 | Press Release 2 | Press Release 3
Press Release 4 | Press Release 5 | Parent's Perspective
Associated Pig Press
Harry Swinedell, Ace Reporter
December 19, 1999
It's me, Harry Swinedell, your favourite Ace Reporter, and I'm coming to you live from Party Central.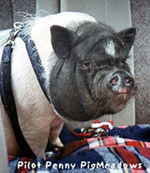 Here in the little hamlet of Clay, NY, celebratory cheers continue to ring on into the night as the world has finally witnessed that PIGS DO FLY!
NICKELODEON'S long awaited air-date of their most popular TV game show, "Figure It Out – Wild Style" hit the air waves today, nationwide. Kids, pigs, and adults alike, piled up in front of televisions everywhere, anxious to get a glimpse of Pilot Penny PigMeadows as she hoiked her trotters up onto her custom-built hovercraft, then flew across the multi-coloured flight deck at NICKELODEON.
---
Although her flight was contractually brief, the event was monumental, nonetheless. With her trusty Co-Pilot, Ali Nicholson by her side, they have become instant ambassadors of good will, not only recognizing people as suitable companion animals for pigs, but also by proving there is irrefutable intelligence within all beings that grace this planet we all call "Home." This pig reporter can think of no message more appropriate during this special holiday season. What could be more fitting?

With love, trust, and respect for each other, along with a solid commitment to the same dream, obstacles were overcome, old myths have been shattered, and a bond between species has been forged that historians will surely write about.

"Who would have ever thought that a fancy-white, little pinto pig, like me, from a small farm in Texas, would ever go so far? When I came to live with my new herd in New York, I only thought I'd be loved and pampered, like my Mother had told me I would. I never expected to be famous, too!" Penny exclaimed, as she took a short break from the media hounds.

And it's true. As the first and only Pig Pilot in the world, (and Y2K compliant) Penny truly has gone far. Penny, only three years old, leaves one to wonder just what else she will have accomplished by the time she is 13, or 23, or 30!

What a Christmas gift to pigs everywhere! What a way to end the millennium. What a weight off mine and Clover's backs! Have you any idea what it's like to live with a celebrity sow?

Let me leave you with Penny's media contracts, as they stand tonight, and know that the phone just keeps on a ringin' here.

12/16 The Post Standard Newspaper, Interview, Syracuse, NY
12/17 NICKELODEON TV "Figure It Out!"
12/17 EPI News Wire Press Release
12/18 The Post Standard Newspaper, Syracuse, NY Photo Shoot, 10 a.m.
12/18 News Radio interview with Cayd Smith, WCBS AM Radio 88, New York City, NY
12/18 EXTRA, contracting plans for a national TV shoot
12/19 WTVH Channel 5 (CBS) Eyewitness News Taping, Syracuse, NY

For more information on this extraordinary event, visit other links at Potbelly Pig Place, Nickelodeon.

Now, as you hurry to see what Santa has left you under the Christmas tree this year, Clover and I hope it's popcorn, comfy blankies, and loving two-leggers who'll dote just on you, and not a fancy-white pinto pig who's destined to become famous. But if it's the latter, keep in mind that photo shoots involve a lot of good cheer for all — and it comes in the form of popcorn, dried applies, and cranberries, whole. They won't just be for the Christmas tree anymore!

From me and my herd,
to you and yours...
Happy Holidays!

Signing off — from the ground
and until next millennium
Harry Swinedell, Ace Reporter
Proud herdmate of
Pilot Penny PigMeadows