Education
In essence: We want to teach you to not need us!
At Animal Wellness, we are dedicated to the holistic education and care of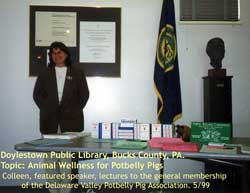 your companion animals, large or small. We can help you utilize natural therapies to keep the animals you love as healthy as the day they were born. Our main focus is on education, and our goal is to help you to help yourself because we believe in using "Self-Care" as much as possible.
Whether through our consulting services, or our educational classes and seminars, we will always educate you. During consults, we will cover the basics of what we're doing, how to do it, and what to watch for, as we teach you basic evaluation skills.
During our classes and seminars, you will get a more in-depth look at how nutrition, homeopathy, and animal communication can fit into, and enhance, the vitality, and quality of your animal's life. You'll learn so much that you'll immediately be able to begin using the abundance of information just learned.
In essence: We want to teach you to not need us!
Throughout this website, not only will you find all of the products and services that we offer, but also helpful articles, charts, tidbits and tips...useful things that you can do to help insure the happiness, health, and longevity of your companion animals.