Potbelly Pig Place - Nickelodeon
Ali Wins All and Penny Flies! From A Parent's Perspective
Press Release 1 | Press Release 2 | Press Release 3
Press Release 4 | Press Release 5 | Parent's Perspective
NICKELODEON is a first-class act all the way, and we thank them again for this wonderful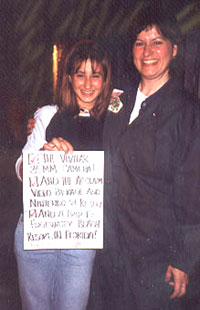 opportunity.
From the production folks in New York, to the Orlando crew and hospitality staff, this event was more than we ever dreamed it could be. Ali, Kelly, and even Penny will tell you, that even if no prizes had been won, the experience was the grand prize in itself.
We all will remember this for the rest of our lives, and because of this, we also thank Alison and Penny for taking us along for the ride.
To all of you kids out there, look to the stars because the sky's the limit!
Pigs DO Fly — and when they do,
wonderful things happen.
Colleen Nicholson