In Memory of Nino
May 27, 1973 to March 4, 2005

- Click on photos to enlarge

Nino is survived by his longtime herdmate Dulce; the two minis, Logan and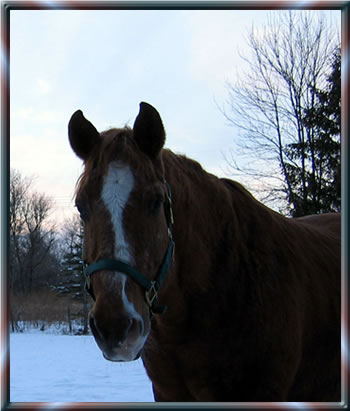 Hailey, several dogs, cats, Bill, and of course Joyce. Nino was nearly 32 years old. He is buried at his farm in Clay.
Nino and Joyce became constant companions on April 1, 1977. Though many other animals would become loving, life-long friends as well, this chestnut coloured quarter horse became the love of her life.
I met Joyce and Nino about 13 years ago, and on one of his very first "talks" with his mom, Joyce remembered that he told her way back then that he thought he'd live to be 32 years old. Joyce told me she always remembered that because at the time she thought to herself, "Oh wow! I can handle that — it's a LONG time away!"
I was honoured to be both Nino's friend and with him when he crossed. Although his physical presence is truly missed, he began making it known to those left behind that he made it to "The Forever Green" in merely a heartbeat. He is not far away, you just need to look for him with different eyes.
Colleen
---
Nino's Friends. Click on photos to enlarge.