Homeopathy and Remedy Kits
First Aid Pig Kit | First Aid Animal Kit | Horse & Colic Kit
You never know when an emergency will arise... Be Prepared!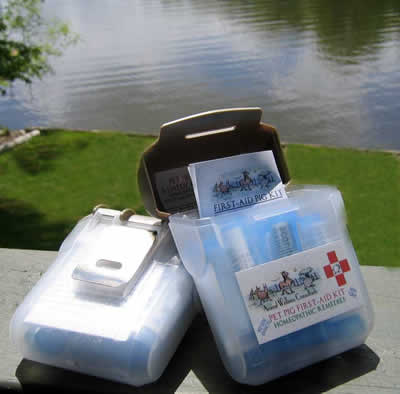 "Fourteen years ago, when I began studying homeopathy, it was frustrating trying to find both homeopathic textbooks and the remedies themselves. What I wouldn't have given for a good book and a kit! That frustration lead to the incorporation of Homeopathic Informational Resources, Ltd., which became the largest supplier of homeopathic textbooks and supplies for lay people in North America for 5 years.
As my interest started to shift back into veterinary work, H.I.R. was transformed and scaled down so that I could devote more time to writing, teaching, and practicing homeopathy for animals. Not long after, Animal Wellness Consultants was founded.
"One thing became very clear, very quickly... All the homeopathic knowledge in the world means nothing if you don't have the remedies on hand when needed. With this, the first Animal Remedy Kit was born, and it was devoted to Potbelly Pigs.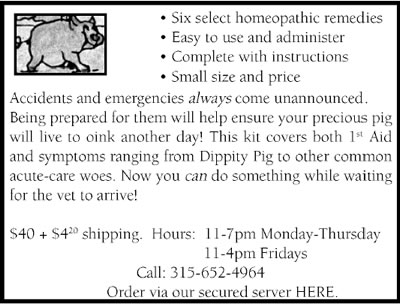 "Met with wonderful enthusiasm from pet pig owners from the U.S. to South Africa, The Pig Kit is both small in size and price. The six select remedies and complimentary charts, puts the power of life-saving remedies right at your fingertips for immediate dispensing, should an emergency arise. And, because homeopathic remedies treat 'symptoms' rather than disease, these same remedies cover a large array of common ailments that pet pigs, or other creatures, may experience daily.
"Each remedy vial contains about 40 doses of remedy, making it very economical. The charts give clear, easy to understand instructions as to the classical use of each remedy as it relates to pet pigs, and an Animal Dosing Chart is also included.
"As I say to every student I teach or client I consult for...
'Buy this kit and learn these six remedies — you WILL ease pain and suffering. But, as always, I hope you never need it.'"
Colleen Nicholson
---
"No, Harry, I'm sorry, but band-aids do not come in 'The Pig Kit.' There is so much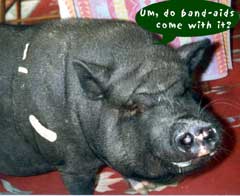 stuffed in there already, that there just wasn't any room to squeeze in anything else! However, I do suggest you keep your Pig Kit in a larger 'Animal Rescue Box,' along with band-aids and other medical supplies. And might I suggest the nifty, new NEON coloured band-aids? They'd look smashing on your dark bristles...but then 'smashing' is how you probably come to needing them in the first place; am I right?
"If so, I suggest you use some Arnica with your band-aids."