Potbelly Pig Place
Please click here to see photos of Lucy


...pilot, sculptor, and pig mom from South Africa, as we travel to meet the pigs and their devoted humans at three very special farms.
Living with pet pigs is a wonderous thing. Not only do the pigs change most people's outlook on life,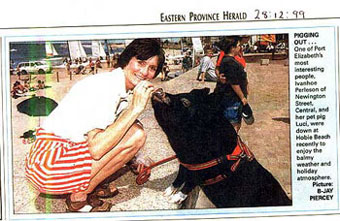 but they also forge the way to many new friendships as their humans journey to understand more about cultivating the health and well-being of their intelligent, beloved, bristly friend.
South Africa is very far away from my home, but thanks to the world-shrinking abilities of the Internet, I met Ivanhoe as we each were searching for ways to help, pamper, and keep our pet pigs healthy and happy. Email has proven to be a marvelous thing!
In May of 2000, Ivanhoe decided to come to America and meet some of the pigs and people that she'd been conversing with in those past two years - ever since Lucy decided to take her on as her new pig mom. When she put me on her itinerary, I promised her more pigs-per-square-inch of the U.S. than she'd enjoy on any other leg of her journey. I succeeded.
The links under Meet Ivanhoe are filled with pigtures of our trip as we traveled over 1,000 miles while she was here with me. And, it wasn't only pigs we saw either - some culture was involved, too. So, travel with us now as I share with you the companion pigs of my world, all 213 plus of them, that I have now shared with Ivanhoe.
Hope you enjoy the journey as much as we did. Colleen
---

MEET LUCY! She's EXQUISITE!!!
After deciding to take a sculpture course at the local university, Ivanhoe uncovered a hidden talent she didn't know she had. "Lucy" is the product of hundreds of hours of labor. Originally cast in bronze, this one is resin, bronze, and copper.
See more detailed pictures, go to Lucy Pig's page.