Potbelly Pig Place
OUT OF PRINT - The Complete Guide for the Care and Training of Pet Potbellied Pigs — OUT OF PRINT
Kathleen Myers
The Third Edition — 2005 — Available now! — $24.95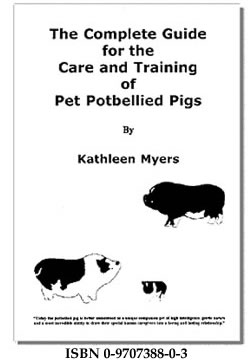 The Table of Contents can be found below. There are new sections in the 2005 edition. Also, several other sections of the book have been updated and provide more comprehensive information than were found in the previous editions.
This comprehensive resource book of 192 illustrated pages was written by Kathleen Myers, a nationally known potbellied pig breeder and consultant. Since 1989, Kathleen has cared for her own pigs and has spent thousands of hours sharing her vast experience as she counseled pig owners around the world. She now offers her knowledge in this book as a complete, up-to-date guide for the care and training of the pet pig.
The Complete Guide for the Care and Training of Pet Potbellied Pigs is filled with wonderful pictures of potbellied pigs as illustration to the text.
More than 2700 copies have been sold! Book Reviews from potbellied pig owners who have already received their copies.
"Today the potbellied pig is better understood as a unique companion pet of high intelligence, gentle nature and a most incredible ability to draw their special human caregivers into a loving and lasting relationship."
Table of Contents
1 Pigs as Pets
|
2 Choosing the Right Pig
|
3 Bringing My Piglet Home
|
4 Behavior and Training
|
5 Aggression
|
6 Nutrition
|
7 Grooming
|
8 Living Environment
|
9 Aging Pig
|
10 Medical Care
|
11 First Aid for Your Potbellied Pig
|
Resources
Introduction
Where Do Potbellied Pigs Come From?
Considering A Potbellied Pigs As Pets?
What Are The Characteristics of the Potbellied Pig?
Birth to One Year
Piglets Birth to 6 Weeks
Teens 3 Months to 12 Months
One Year to 5 Years
Over Five Years
What Will My Pig's Size Be?
How Well Do Potbellies Hear, See and Smell?
How Do PotbelliesCommunicate?
How Do Potbellies Do With Children?
How Do Pigs Respond To Other Animals?
Have You Checked Your Community Zoning?
Chapter Two
Choosing the Right Pig
How Do I Choose A Potbellied Pig Breeder?
Should I Get A Registered Pig?
Should I Get A Shelter Pig?
What Is An Animal Collector?
Do I Really Want to Breed My Pet Pig?
Should I Have My Pig Neutered or Spay?
Chapter Three
Bringing My Piglet Home
How Do I Prepared for My Piglet?
How Do I Bond With My Piglet?
How Do I Pick Up My Piglet?
How Much Do I Feed My Piglet?
How Do I Housebreak My Piglet?
How Do I Harness and Lead Train My Piglet?
How Do I Train My Piglet To A Carrier?
Chapter Four
Behavior and Training
What about Social Dominance?
What About Training the Pet Pig?
Summary:
What Are Good Tricks to Teach My Pig?
Kiss
Come
Figure Eight
Shake Hands
Nose Tricks
How Do I Stop My Pig From Biting My Fingers?
How Do I Stop My Pig From Squealing?
How Do I Stop My Pig From Rooting?
What Are Good Toys and Games For My Pig?
Should I Add A Second Pig To My Family?
How Do I Introduce the Second Pig?
Why Does My Pig Want To Act Dominant?
What Causes Aggressive Behavior in Pigs?
What Does Head Swiping Mean?
Why Do Some Potbellies Show Aggression to Visitors?
What Can I Do To Prevent Aggression In My Pig?
What Can I Do To Retrain My Aggressive Pig?
What Should I Feed My Pig?
How Much Should I Feed My Pig?
Suggested Feeding Guidelines
Piglets - 6 weeks to 3 Months of Age
Pigs - 3 Months through Adulthood
Elder Pig - Over 5 Years
Recommended Additional Treats and Dietary Supplements
Inappropriate Foods and Treats
How Do I Prevent My Pig From Choking When Eating?
How Do I Determine If My Pig Is In Good Condition?
How Do I Help My Obese Pig to Lose Weight?
What Do I Do About An Underweight Pig?
How Do I Give My Pig A Bath?
What Do I Do About My Pig's Dry Skin?
Why Did My Pig Lose All Of Its Hair?
How Do I Care For My Pig's Teeth?
How Do I Trim My Pig's Hooves?
How Do I Clean My Pig's Ears?
Chapter Eight
Living Environment
What are the Proper Living Conditions for My Pig?
How Do I Care For My Pig In The Winter?
How Do I Care For My Pig In The Summer?
What Do I Need for Summer Cookouts and Outings?
How Does My Pig Become An Experienced Swimmer?
How Do I Keep My Pig Calm During the 4th of July Fireworks?
How Do I Prepare My Pig For School Starting?
How Do I Help My Pig Have A Safe Halloween?
How Do I Make The Holidays Safe for My Pig?
How Do I Travel With My Pig?
How Does My Pig Travel By Car and Plane?
How Do I Teach My Pig To Use A Ramp/Climb Stairs?
What Should I Do If My Pig Has To Stay Home?
What Do I Do If A Disaster Happens?
What Should I Do If I Have To Give Up My Pig?
How Long Will My Pig Live?
What About Health Care For My Older Pig?
How Can I Help My Pig As It Grows Old?

Constipation
Arthritis
Pain
Nutrition
Teeth

What Can I Do If My Pig Becomes Gravely Ill?
How To Choose A Veterinarian?
What Do I Do Before My Pig's First Visit?
How Do I Restrain My Untrained Pig?
What Do I Do On My Pig's First Visit?
What Should I Expect At the Annual Visit?
How Should I Vaccination and Control Parasites For My Pig?
What Is The Safest Method of Sedation For My Pig?
What Should I Tell the Veterinarian If My Pig Is Sick?
How Do I Administer Medicines to My Pig?
When Should I Call A Veterinarian?
What Are Treatments For Some Pig Emergencies

Bite Wounds
Bleeding
Choking
Stops Breathing
Burns
Heatstroke

How Do I Help Keep My Pig Healthy?
Chapter Eleven
First Aid for Your Potbellied Pig
What Is A Good First Aid Kit For My Pig?
How Can I Maintain A Poison - Safe Household?
What Do I Do If My Pig Is Poisoned?
What Do I Do If My Pig Becomes Lame?
How Do I Handle Different Health Conditions In My Pig?

Cancer
Constipation
Diarrhea
Dippity Pig
Ear Infections
Parasites
Porcine Stress Syndrome
Salt Poisoning
Runny Eyes
Sarcoptic Mange
Spring Allergies
Urinary Function
Cystitis and Pyelonephritis

What Are Some Infectious Diseaes?

Atrophic Rhinitis
Erysipelas
Escherichia Coli (E Coli)
Intestinal Parasites
Leptospirosis
Mycoplasmal Pneumonia
Porcine Parvorus
Pseudorabies
Rabies
Suppurative Arthritis and Osteomyelitis
Swine Flu
Transmissible Gastroenteritis (TGE)

What Are Some Good Homeopathic Remedies For My Pig?
Toxic Plant List
Poison Control Center
Pig Products and Supplies
Books
Breeding Supplies
Food & Supplements
Grooming Products
Hair and Skin
Harness and Lead
Health Care
Hoof Trimmer
Beds
Heat Mats
Homeopathic Healthcare
Housing
Gates
Rolling Food Ball
Swimming Pools

Online Resources and Information