Animal Communication Training CD
Communicating with Animals at a Distance
NEW from Colleen Nicholson at Animal Wellness and Wayne Nicholson, CHt at TheHiddenLanguage.com and Tranquility Hypnosis, this training CD with hypnosis session designed specifically for animal communication which you can play time and again to help enhance your innate ability to communicate with the animals around you.
This beginners training CD is perfect for any animal lover and is an economical way to begin learning at home. For more indepth and intensive study, please refer to our Animal Communication Seminar Schedule.
Communicating With Animals at a Distance
You can communicate with your animal companion at any distance. In fact, you can talk to your animal friends whether they are alive or not. You can learn about their wants and needs, understand any health concerns they or you might have, or receive higher wisdom at a level you may not have known existed before.
Colleen Nicholson shares decades of experience as an Animal Communicator in a down-to-earth, inspiring manner. Wayne guides you through a trance session that will boost your intuitive abilities and allow you to share a conversation with the animal you most want to hear from at this time.
Together they have created a powerful tool to enrich your life, and deepen the spiritual dimensions of your relationship with the animal world.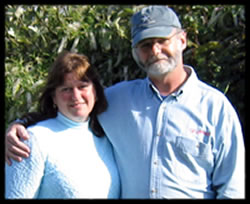 Visit their websites at:
HolisticAnimal.com and
TheHiddenLanguage.com
Colleen & Wayne Nicholson have studied healing and meta-physics together for 25 years. Colleen is an internationally known Animal Communicator. Wayne is a Hypnotist and Reverse Speech professional.
We have developed this training program to help you strengthen your bond
with the animal kingdom in a powerful way.
Topics include:
Communication & Telepathy
Can anyone learn this?
The Universal Language
Is it just imagination?
Three ways animals come through
Avoiding preconceptions.
Questions to ask your animal.
Levels of communication.
Communicating at a distance.
Getting verifiable information.
Getting information about health.
Reconnecting ith the other side.
The spirituality of animals.
A simple procedure you can follow.
Hypnosis to strengthen your skills.