Potbelly Pig Place
Meet Ivanhoe Perelson's Flying Pig

2:22 p.m. Eastern Daylight Time
Syracuse, New York, USA
Harry Swinedell
Ace Reporter
Rumour spread quickly today throughout the United States that a special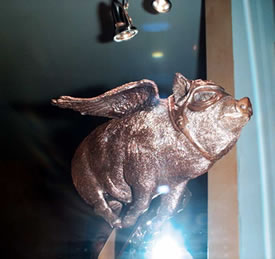 emissary from South Africa had touched down at Syracuse International Airport, then was quickly escorted through United States Customs before departing on to a final unknown destination in Clay. Two-legged reporters were chasing down their leads but to no avail. I, Harry Swinedell, seasoned Ace Reporter have been two hooves ahead of my human colleagues throughout this whole event.
True — a very special dignitary did arrive here late this afternoon — right to my very own house. Ushering in many ooohhhhs and aaahhhhhs along the way, this "bringer of truth" has brought with her the many blessings of her original herd, along with the good cheer and good will of her distant nation.
No doubt droves of humans will begin to descend upon our quiet abode as word spreads that this was in no way a rumour as first suspected. Pigasus has flown half way around the world and the truth she represents is clear. Flying Pig is an icon of light and awareness. Surely each human who gazes upon her will be touched in a way in which they will never forget again...
Pigs are of grace, beauty and flight. Look up and you just might catch the vision.