Animal Quote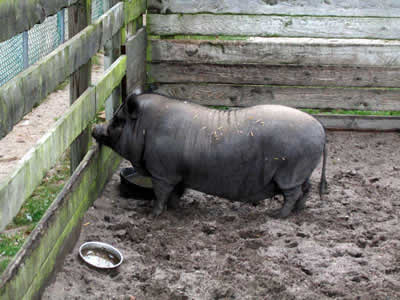 "There's always a reason, and then there's the truth." Robert
Robert is an older potbelly pig who lives at Popcorn Park Zoo after his people turned him in, stating they couldn't take him with them when they moved. In actuality, Robert suffered the plight of thousands of potbelly pigs whose people were not willing to commit to their companion animals for any longer than it was easy for them to do. For Robert, clearly he knew the truth: the "reason" was they were moving. The "truth" was they just didn't want him anymore.
Susan Armstrong-Magidson, proprietor of Ross Mill Farm and Piggy Camp in Bucks County, PA, was a student of the Animal Communication Level 1 seminar held at Popcorn Park Zoo on Sept 18th, 2004. It was Susan who Robert gave this message to, probably a no more fitting person to hear it for Susan understands the emotional life of pet pigs possibly better than anyone else in the NorthEast.
Ross Mill Farm houses up to 150 potbelly pigs at any given time as part of the farm's boarding facility; fat-camp for overweight pigs; and the rescued pigs who are awaiting loving homes with people who don't throw away animals once they grow tired of them.
Visit Ross Mill Farm and see the magic of pigs and Susan's commitment to this special animal. You can also buy premium food made specifically for pet pigs or other pig related items here.
Or visit Robert at Popcorn Park Zoo in Forked River, NJ. Robert and others like him share seven acres in the beautiful NJ pinelands. The pigs and many other exotic and large animals will live the rest of their lives here being cared for by people who cherish the lives of the wonderful creatures we share this little blue globe with that we all call home.
Robert

| | | | |
| --- | --- | --- | --- |
| robert2 | robert3 | RobertPBP | zoo3 |