Animal Quote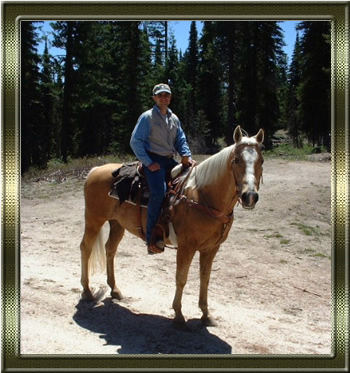 "You don't need a woman when you've got a really great horse."

Peabo( "Little Bit O Quin") is a 16 year old registered Palomino/Quarter horse, and his partner is Tom Wright. He lived at Rose Wind Acres in central New York for many years and Tom was his next door neighbor then. A lifelong love of horses brought Tom over to see Peabo and his herd on a daily basis, and even encouraged him to enroll in Cornell University's farrier program, so for a while Tom did all the horses hooves, as well.
About 6 years ago, Tom relocated to Boise, Idaho to become a flight paramedic for the city. Two years later he was ready for a horse of his own, so Peabo moved to Nampa, Idaho to live with his good friend Tom.
Peabo now enjoys lots of trail riding in the "real" mountains and high planes desert terrain. They are also Team Penning and Team Sorting, both of which they are working to improve upon. Next year they are planning to learn to rope.
Although missed much by the herd he left behind, along with his moms, Maureen and Susie, Peabo is living a life he once only dreamed of — being a real horse, doing cowboy stuff.
Peabo's Photo Album

| | | |
| --- | --- | --- |
| BareBack060301 | LazyPB | Mcs6 |
| pb515 | pbmo01 | Xmass00 |