Animal Quote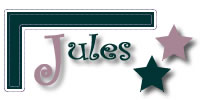 "The only thing that matters in life isn't when you love, but that you love."
Jules
28 March 2007
Jules was a special cat and his mom Rachel did all she could to help give him the best medical care possible. And even though he was adored by all, including the small animal staff at Cornell University, the time came when Jules did not want more chemo, he wanted to cross over. His message was for his other human, Megan, who wasn't with him at this time in his life and was having a very difficult time with his failing health.
This is always an agonizing time for an animal caretaker. How do we know when it's the right time to help them cross? Should we help them or let them go on their own. Rachel found out from Jules that animal's have their own "end of life" requests. Fortunately for animals, we can help them if they want our help — something we can't do for ourselves.
Jules refused to say good-bye because it wasn't an ending for him or their relationship, it was a changing. He asked that he have a memorial which he hoped would be a good picture of him with something of his hanging to the right of it. He showed me what looked like a small locket, as inside was a bit of his fur.
Ellie, his companion cat who was to now go on as feline head of household only had one request that day. "When it's my turn Mom, I want a bigger locket."
Click on thumbnails in panel to see enlarged view below.