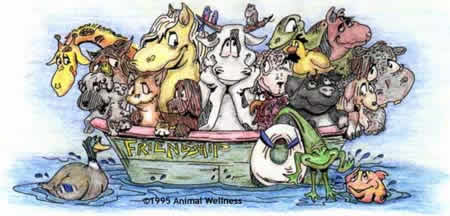 We were hacked! As we recover from this senseless attack, we are doing cleaning and updating as well.
If what you're looking for is not found, please call us and check back often.
Animal Wellness offers you Animal Communication, homeopathic consultations and remedies, quality natural food, books, and information for your dog, cat, horse, pig, bird, iguana, ferret, ground hog, goat, skunk, turtle or any other animal in your life. No matter where you are in the world, we're here to provide you with what you've been looking for: diverse holistic health care for the animals you love. Whether you are familiar with animal communication or holistic medicine or not, this is the place for you.
Colleen Nicholson is a world reknowned Animal Communicator, homeopath, author of Crossing the Rainbow Bridge: Animal Journeys to Heaven, educator, Reiki Master, Reconnective Healing and Quantum Touch energy healing practitioner, working with animals and their people around the world from her location in Central New York.
Joyce Puchyr is the animal food and supplement expert, offering inexpensive counseling in what natural food is best for your dog or cat by helping you weed through the expansive holistic, natural, organic and vegetarian varieties and formulas now on the market. She too is a homeopath and Reiki practitioner, also located in the Syracuse suburbs.
Together they formed Animal Wellness Consultants in 1995 to bring an affordable approach to holistic healthcare for animals. With natural quality food and an insight via non-verbal communication into your animal's life, they strive to help you help your animals stay as happy and healthy as the day they were born.
We're here to help you help the animals you love!
On our site, you will find information on the many aspects of animal wellness and how we can help you help your companion animals find it, keep it, or get it back. From our consulting services, to the products we carry, on into the educational information contained within these pages, you are about to enter a whole new world of viable healthcare possibilities for your furry, feathered, bristled, and scaly friends.
Keep in mind that we do not diagnose veterinary diseases. In any emergency or life-threatening situation, we urge you to contact trained, emergency healthcare professionals for your animals, but by all means, use the information you learn through Animal Wellness Consultants to help your pets while either transporting to an emergency medical facility, or while waiting for emergency help to arrive.
Weather Forecasts | Weather Maps | Weather Radar
Pets and Hurricanes
Hurricane Equine Relief
Hurricane Animal Relief and Pet Micro-Chip Recovery Info
International Fund for Animal Welfare
In Memory of Clover la Oink, Chrissy Pig, and Harry Swinedell
mouse over image — click to VIEW slide show
We're glad you stopped by, and come back often.
Contact Information: 315.652.4964
9099 Oneida River Park Drive
Clay, NY 13041 USA